It's all on the table with Chef Cable Smith of The Royal, a recent Bib Gourmand winner in the Michelin Guide.
THE CHEF
Cable Smith is the head chef at The Royal, just a quick, ten minute stroll from The Lurgan. Before that, he was at Requin. He's an Austin, Texas transplant, so he knows a thing or two about living in cool cities. True to form, some of his favorite things to do around Shaw are to eat food and shop for food. That is, of course, when he's not artfully creating food.
Q: What do you love about what you do?
CS: I love cooking and trying to make something new. It's really rewarding when you make something for someone and you get that look on their face that's like, "Mmm, that was awesome."
Q: Before living here, you lived in Austin, TX. What's your take on Shaw?
CS: Shaw feels alive. It's personable, kind of quirky, and attracts all types of people. It's definitely the hot place to live and hang out. Our restaurant's in a cool location so I get to see it all.
Q: What's something people may find surprising about you?
CS: I'm pretty artistic. I like to build furniture. I got a college scholarship for oil painting, which I didn't take. I won another scholarship for drawing comics when I was little. I don't have enough time for my hobbies these days; cooking is my creative outlet now.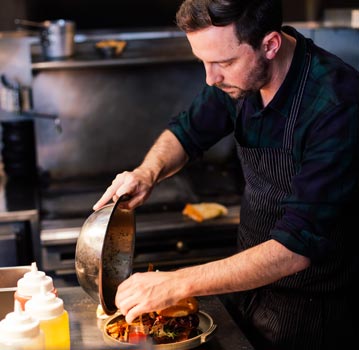 Q: How did you become interested in cooking?
CS: I cooked with my mom as a kid. I loved it. I remember standing on a chair at the stove when I was five while she taught me how to make pancakes. I lived on a farm and my parents let me play with things most parents don't – tools, fire, sharp things. And the stove obviously.
Q: What are some of your favorite things to do around Shaw?
CS: I love the Mount Vernon Triangle Farmers Market. I get greens at Little Wild Things. American Ice, Nellie's, The Columbia Room – there's just so much. The Dabney is my favorite restaurant in all of DC. It reminds me a lot of my friend's restaurant and brings back good memories.
Q: What has you most excited about The Lurgan?
CS: Ha, is it cliché to say the kitchen appliances in the units? I'm a sucker for good, gourmet appliances. They're the best for cooking, plus they just look cool.